Health and Kinesiology Faculty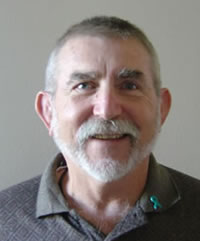 John H. Sloan
Title: Associate Clinical Professor
Department: Department of Health & Kinesiology
Building: Herrington Patriot Center
Email: jsloan@uttyler.edu
Phone: 903-566-7123
Degrees
Ph.D., Health and Physical Education-- Biomechanics/Exercise Science, University of Southern California, Los Angeles.
MBA, Healthcare Management, Our Lady of the Lake University, San Antonio.
M.S., Health and Physical Education, University of Wyoming, Laramie.
B.A., History/English, LeTourneau University, Longview, Texas.
Biography
Sample Courses
Consumer Health
Health Care Delivery Systems
Needs, Processes, and Outcomes
Teaching Philosophy
I love mental spelunking. Each semester I get to take students through a dark cave of stalactite and stalagmite ideas, pointing the light at the ceiling-stuck cat or a three-legged donkey. "Over there," I yell, turning the light in another direction. "Can you see it? Can you see it? . . . the NAKED CHICKEN, caught mid-stride in the next room?" With furrowed brows and searching eyes, students squint at the dark shadows, searching for even a hint of beak or comb. "Where? Where?" they ask. Then at last . . . "I see it! I see it!" one cries.
Then here is the really best part. She takes the light herself and points it far into the cave. "Sloan, can you see the lovely apple tree? Don't you just love apples?" she says. My eyes follow the light, and there it is, right where it has always been, apples and all. But I SEE IT for the first time.
"Is that the tree of knowledge?" one asks. And, "was that the naked chicken of wisdom?" chimes another. "A look under the feathers."
Then we all laugh together at our possibilities till our joyful tears form new mystery-shapes of our own on the floor, someday to be discovered . . . and I am once again blessed.
Research Interests
Exercise and behavior modification in homebound patients with COPD.
Territoriality Theory


Selected Presentations
Sloan, K.L., and Sloan J.H.  (April 2004).  Doctoring Images: Literary Subversion of Male Medical Authority in 19th Century Fiction. National PCA/ACA (Popular Culture Association/American Culture Association) Joint Conference.
Sloan, J.H., Karen L. Sloan, Identities in Health Care: Toward a Model of Human Territoriality. National PCA/ACA (Popular Culture Association/American Culture Association) Joint Conference. April, 2004
Scholarly Activities in Progress
Randomized Trial of Home-based Pulmonary Rehabilitation for Patients with COPD (R18- NIH in year 3 of 5 year award, 2011) Dr. David Coultas P.I., University of Texas Health Center at Tyler)
A Randomized Trial Comparing Two Types of In-home Rehabilitation for COPD, a Pilot Study, Carol McFarland, Dan Willson, John Sloan, David Coultas [In second review—Aug 26,2011, Journal of Geriatric Physical Therapy]