Health and Kinesiology Faculty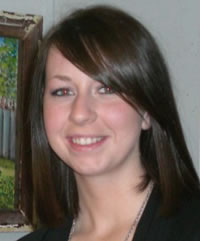 Tara Eaton
Title: Lecturer
Department: Health & Kinesiology
Building: Herrington Patriot Center
Email: teaton@uttyler.edu
Phone: 903-565-5749
Degrees
Southern Illinois University Edwardsville
MS Kinesiology, emphasis Exercise Physiology, 2010
Southern Illinois University Edwardsville
BS, Exercise Science, 2008
Biography
Sample courses
Wellness
Personal and Community Wellness Lab
Nutrition
Stress Management
Teaching Philosophy
When I began studying exercise science, I didn't know much about the subject other than it was exercise. I quickly learned that it was much more than just working out. Along the way I had some amazing teachers that not only taught me the significance of exercise and health, but also inspired me to promote it to others. They always believed in the phrase "practice what you preach", and as a teacher now, I instill that into my students.
I believe that learning should be fun, filled with excitement of new knowledge and experience. In the classroom, I like the traditional ways of lecturing but supplement it with activities, assignments, and tests that will promote the students to learn the material rather than regurgitate it. I want the students to be able to experience what they ultimately will do as a health and fitness professional by testing each other on the skills required. Having that experience will ultimately create better interpersonal skills for future employment.
My goal for each student is to show growth using the tools I have taught them. To be able to fully understand that health and fitness is a lifelong battle that is achieved through positive behaviors. I hope that each student will be able to practice those behaviors such as having a healthy diet, exercising regularly, and living a life to its full potential, so that they will be healthy professionals that I know they can be.
Out of the classroom though is just as important. Being a young instructor can have its pros and cons, but ultimately I find that students are more willing to get to know me and build a relationship that they know can be trusted. I know it takes much more than just the couple of hours a week in the classroom to promote such growth. My door is always open for that extra time a student might need or to simply talk about goals and ideas they may have.
Teaching was never a professional goal of mine until I got started in this field. Now that I have had the experience of teaching at the college-level, I want to continue on that path. Seeing the progress of students puts a smile on my face. Knowing that I might have had something to do with their success is too rewarding to give up. Eventually though I would like to look into further education as learning should never stop.
Notable Academic Awards
SIUE's Outstanding Teaching Assistant Award, 2009