Health and Kinesiology Faculty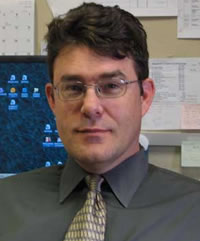 William  Sorensen
Title: Associate Professor
Department: Department of Health & Kinesiology
Building: Herrington Patriot Center
Email: wsorensen@uttyler.edu
Phone: 903-566-7032
Degrees
University of New Orleans
Ph.D. in Curriculum & Instruction/Health, 2003
Tulane University School of Public Health and Tropical Medicine
M.S.P.H. in Biostatistics, 1994
Columbia University, Teachers College
M.A. in Science Education, 1988
St. John's College
B.A. in Liberal Arts, minor in Mathematics, 1982
Biography
Sample Courses
Epidemiology
Biostatistics
Behavioral Health
Research Design
Human Diseases
Teaching Philosophy
            I manage classes that demand instruction of current knowledge and methodology in the health sciences. Previous to my experience here I was also a teacher, but on the middle/high school level. At all times, on all levels, educators need to remind each other that we are here and now in a particular paradigm of thinking (a.k.a Thomas Kuhn). Perhaps if we work in another corner of our garden we will see an idea in a different light. We need to coax ourselves and each other to constantly move around in the garden. We invite our students in; it is O.K. to ask them for help in trying to pick weeds or mulch the ground or plant seedlings.
            In Montaigne's essay, On the education of children, he talks about a three-step process in attaining good education. First, is the dissemination of "knowledge", knowledge that seems universal, knowledge that can be memorized and stored and recalled at a later time. Second is the ability to doubt this knowledge. This ability may be summarized, too, when Socrates stated, "I know that I know nothing". The third step, which Montaigne admits few individuals achieve, is more a cultivation, a waiting after the seeds are planted, a relationship between instructor and student when the instructor is long gone. This step admits of maturation when Knowledge (1st step) and Doubt (2nd step) fuse to Understanding, a process involving just as much the senses and emotion as the mind.
            I ask my students a lot of questions; I wait for their responses even if they express uncertainty or lack confidence. I adopted this style from my undergraduate seminars at St. John's College, where the "instructors" are called "tutors" because they do not instruct. Tutors ask questions and the students are expected to discuss. So I am comfortable in an "instruction" style which instills doubt, or plays one response (even a good response) with another question. I believe this sharpens not only communication skills, but also hones evaluation and synthesis thought processes. So sprouts curiosity, imagination, motivation, and refinement.
Research Interests
My research interests can be described as falling into four categories: 1) Cognition or behavioral research; 2) Methodology and research design in health studies; 3) International or global health, or acculturation; and 4) Epidemiology.
Notable Academic Awards:
2010-11 Health & Kinesiology Department Instructor of the Year
Publication Highlights:
Moore, B., Sorensen, W., Cooper, C., & Daussat, L. Evaluation of a newly implemented global health curriculum in the public university setting. Journal of General Education (submitted).
Fagen, J.L., Sorensen, W., & Anderson, P. B. (2011). Why not the University of New Orleans? Social disorganization and sexual violence among internally displaced persons of Hurricane Katrina.  Journal of Community Health, 36(5), 721-727.
Sorensen, W., Cappello, M., Bell, D., DiFedele, L.M., & Brown, M. (2011). Poly-helminth infection in east Guatemalan school children. Journal of Global Infectious Diseases, 3(1), 25-31.
Sorensen, W. & Cropley L. (2010).  NGO role and responsibility: Observations of health aid interaction to and within Latin America.  In Public Administration, NGO's and Public Debt: Issues and Perspectives. [Kratochvil, M, Pokorny V., editors].  Nova Science Publishers Inc; Hauppauge, NY.  
Sorensen, W. (2009). Epidemiology commentary on: Prevalence and risk factors for Chlamydia trachomatis infection among cross-border truck drivers in Hong Kong. Sexually Transmitted Infections, 85: 29-30.
Sorensen, W., Anderson, P., Speaker, R., Menacho, S. & Vilches, J. (2007). STI/HIV risk, language, and protective message assessment by qualitative methods among Bolivian truck drivers.  Electronic Journal of International Health Education, 10, 9-18.   
Sorensen, W., Anderson, P., Speaker, R. & Vilches, J. (2007). Assessment of condom use among Bolivian truck drivers through the lens of Social Cognitive Theory.  Health Promotion International, 22(1), 37-43.
Anderson, P. & Sorensen, W. (2006). Drinking more than normal in order to make it easier to have sex with someone: A race, gender, class analysis of college students living on and off campus.  Race, Class and Gender, 13 (1-2), 273-288.
Presentation Highlights:
Sorensen, W. & Ates, T. (2009). Pre/Post assessment of prostate cancer risk and knowledge among NE Texas men. American Association for Cancer Education conference. Houston, Texas. Abstract 378422.
Ates, T. & Sorensen, W. (2009). Baseline assessment of prostate cancer risk among NE Texas men. Texas Association for Health, Physical Education, Recreation & Dance summer conference, San Antonio, TX.
Sorensen, W. & Ates, T. (2009).  Measuring prostate cancer awareness in East Texas. 4th annual conference on Health Disparities. University of North Texas Health Science Center, Fort Worth, TX. Abstract #109.
Sorensen, W. (2009). Building school health day collaborations in Guatemala. AAHPERD National Conference, Tampa, Fl.
DiFedele, L, Sorensen, W, Brown, M, Cappello, M, & Bell, D. (2006). Prevalence and intensity of geohelminth infections in school-age children from the Izabal Region, Guatemala. American Society of Tropical Medicine and Hygiene. Atlanta GA.
Anderson, P. & Sorensen, W. (2006). Profile of college students at a Southern University.  Society of the Scientific Study of Sexuality, Las Vegas NV. 
Bell, D., Mahoney, D., Sorensen, W. & Alfred D. (2006). Initial evaluation of a hookworm intervention among rural school children in Guatemala. Democratic Nursing Organisation of South Africa, Sandton, South Africa.
Sorensen, W. & Cooper, C. (2005). Developmental factors relating to obesity among North East Texas adolescents. SOPHE 56th Annual Meeting. Philadelphia , PA.
Sorensen, W. & Cropley, L. (2005). Does doing good do more harm? Observations of health organization interaction from three Latin American countries. SOPHE 56th Annual Meeting. Philadelphia, PA.