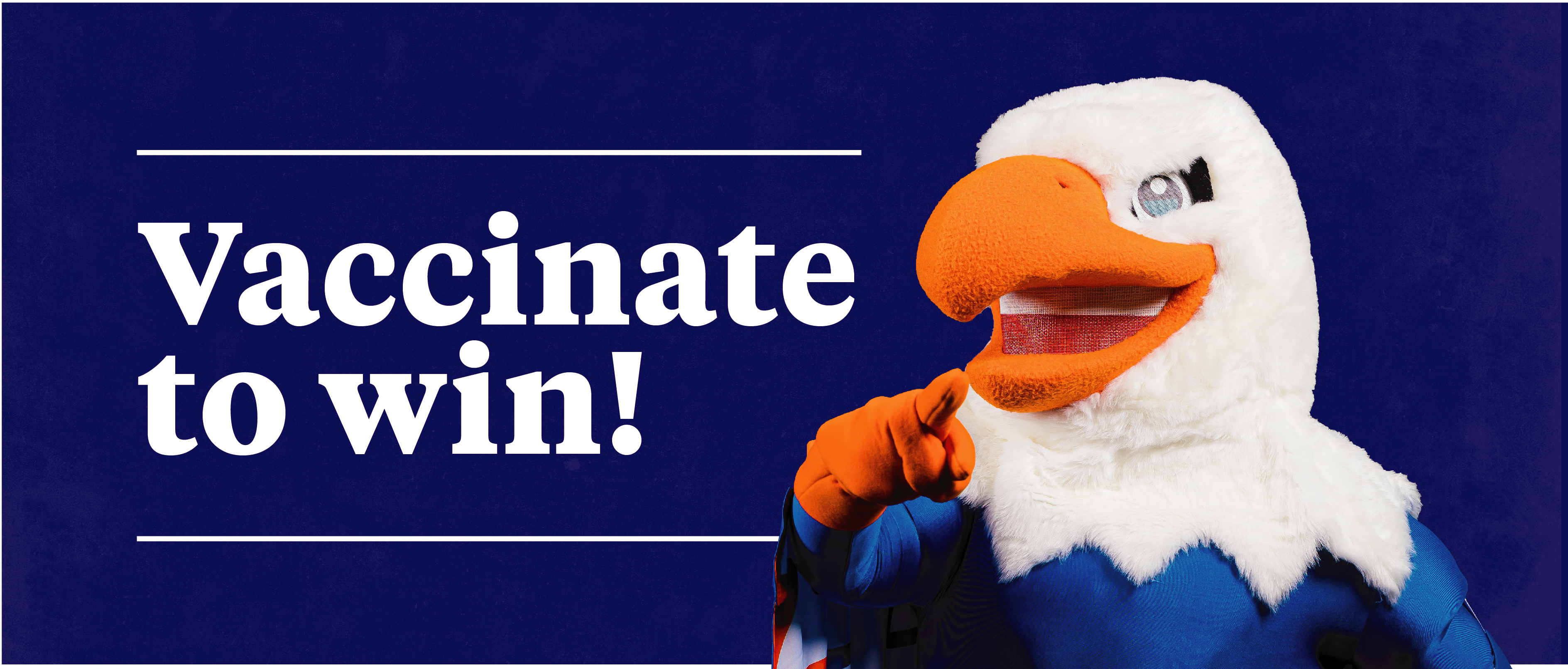 Vaccination Incentive Program
The University of Texas at Tyler
The University of Texas at Tyler strongly encourages the university community to get vaccinated against COVID-19. The Delta variant is spreading rapidly across our city and the country. Vaccinations are still your best defense to protect yourself and others from the virus.
In a new "Vaccinate to Win" incentive program, current UT Tyler students, faculty and staff who are fully vaccinated against COVID-19 can register to win prizes, including student grant awards up to $3,000 and Visa gift cards up to $500. Weekly drawings begin Sept. 22 and continue through Oct. 27 to give you time to obtain your vaccination. If you are already vaccinated, you can begin the entry process now.

How to Enter Weekly Drawings
Students
To register, students must submit a copy of their CDC-issued vaccination card (or appropriate documentation if received abroad).
Email the following information to enroll@uttyler.edu: Name, student ID and an attached picture or scan of your vaccination card.
Or, visit the Enrollment Service Center (ESC) and provide the same information to the ESC representative. The ESC representative will scan your proof of vaccination and return your card to you.
Faculty/Staff
Faculty and staff who are fully vaccinated can register by submitting their name to the employee drawing. If selected as a winner, you must produce your CDC-issued vaccination card (or other appropriate documentation) proving that you are fully vaccinated in order to claim your prize. UT Tyler will not collect or store any employee vaccination records.

More About the Incentive Program

Students, faculty and staff can learn more about UT Tyler's vaccination incentive program by visiting the FAQs page.

Where to Get Vaccinated
The university will soon announce additional dates for on-campus vaccinations. You can also receive your vaccine through your physician or your local pharmacy. Other vaccination locations.

More About COVID-19 Vaccines
There are three vaccines available here in the United States and they include the two-dose Pfizer and Moderna vaccines along with the single-dose Johnson & Johnson vaccine. You can learn more about the safety and efficacy of the vaccines from the Centers for Disease Control (CDC).