Featured Article
Why UT Tyler Alumna at IBM Credits University for Successful Career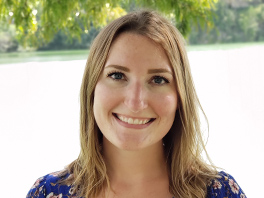 Morgan Carroll earned a bachelor's degree in computer science from UT Tyler in 2017. Carroll's experiences at the university gave her the foundational tools she needed to succeed in her initial role as a software developer for IBM upon graduation.
At UT Tyler, the Slocum native participated in the local ACM chapter as treasurer and was selected for the Computing Research Association's Research Experience for Undergraduates for the summer 2015 session. While participating in the REU program, she worked on the "Pervasive Systems for Elder Care" project, which focused on applying technology to assist elderly citizens with automated home tasks.
After only one year as an IBM software developer, she was promoted to the role of customer success manager (CSM) and, most recently, moved into a senior cloud engineer role in IBM's Technology Garage.
Carroll served as a guest speaker for the spring 2021 "Women in Computing" talk, part of the UT Tyler computer science department's latest undergraduate success initiative. The initiative focuses on sustaining retention rates among female computing majors and enhances the university's partnership in the Academic Alliance of the National Center for Women & Information Technology.
In the following question and answer segment, learn more about the alumna and why she credits UT Tyler for her career success.
You have had several roles at IBM since joining them in 2017. Can you briefly describe your past and current roles?
When I first began at IBM, I was hired on as a software developer on an internal tooling team. We created a CRM tool for our cloud adoption leaders to use to track client engagements. After doing that for about a year, I was offered a role as a customer success manager (CSM), which was the successor to the cloud adoption leader role. A CSM is a mix of being a software architect, developer and consultant. I would guide customers along their A.I. journeys involving IBM's Watson. This role also included building A.I. tools, demos and scripts to assist customers.
Recently, I became a senior cloud engineer in IBM's Technology Garage, where I continue to assist customers in building cloud-native software as well as provide mentorship and training to less-experienced engineers.
How did UT Tyler prepare you for career success?
Not only did I learn how to code while working on my bachelor's degree, more importantly, I also learned the foundational methods for logical and critical thinking. I believe that learning to code is the easy part. Being able to solve complex problems on a microscopic level while keeping the larger ecosphere in mind is much harder. UT Tyler prepared me phenomenally to be able to do this.
What do you like best about UT Tyler?
The faculty and staff genuinely cared about my success and took an interest in helping me succeed. I enjoyed the smaller class sizes as I ended up making friends with the other students. We helped each other succeed!
You recently participated in a WiC interview. . . why give back in this way?
It's important for students at a smaller school like UT Tyler to see that it is possible for us to succeed on levels that we may not think is possible. While I was a student at UT Tyler applying for jobs, I often worried that I would not be able to compete with my peers from more well-known universities. Now that I am in the industry, it is clear that this is not the case! It is all about skills, presentation, and the ability to learn something new. See highlights from the interview.
Do you see more women going into computer science and the computing industry?
Absolutely. Women are seeing that they can do more and aren't limited to a certain set of skills. The phrase, "If she can see it, she can be it" rings true here. In my opinion, it's even more critical now than it has ever been before to have women in these fields to provide some balance and new perspectives in order to combat the negative social issues related to computing that are prevalent in the media today.
Where do you see your industry going in the next five to 10 years?
I see our industry going to the moon! There is a renewed interest in space exploration, so I would anticipate advancements relating to space travel for sure. I think cryptocurrency is going to become more mainstream and even more devices will become "smart." Learning to code is becoming more accessible, so I would anticipate an increase in the size and diversity of the software engineering field in general.
What advice do you have for UT Tyler students, particularly those/women who are interested in the computer science field?
Don't let Imposter Syndrome get you down! Find allies who will encourage you and that you can do the same for them while working on your degree. Find what you are passionate about. Don't let anyone tell you that you "can't," because you absolutely can.
-
Currently residing in Austin, Texas, Carroll enjoys hiking, 3-D printing, gaming and spending time with her two dogs, Apollo and Mr. Hubble. She also enjoys mentoring other women in technology and participating in her local Women of IBM chapter.
#SoulesCOB
Read more from the June 2021 issue!