U.S. Fulbright Specialist
Get to Know Department Chair Dr. Nael Barakat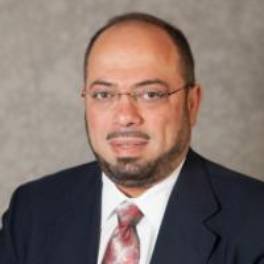 Nael Barakat, PhD, professor and chair of mechanical engineering, is a newly appointed U.S. Fulbright Specialist. With the appointment, he will engage in worldwide, project-based exchanges at host institutions and is a Fulbright Scholarship candidate. Read more about Barakat's appointment.
Barakat has served as chair of the UT Tyler Department of Mechanical Engineering since his arrival at UT Tyler four years ago. Before serving UT Tyler, he was an associate dean for research and graduate studies at Texas A&M-Kingsville. His general areas of specialty are robotics, mechatronics and engineering ethics and professionalism.
"I am grateful to all our alumni, industrial partners and constituents, who have always supported our department and our college, and continue to do so, ­in so many ways, without hesitation," said Barakat. "We are all deeply indebted to you for our students' success and our progress."
Learn more about the professor in the following question and answer segment.
How did you choose the engineering field? Did you always want to become a professor?
I had my mind set on engineering for my career since I was in middle school. I also have education and the respect for the profession of teaching inherited through a legacy of teachers in the family at different levels of the education system. As I moved into management and administration in academia, I have focused more on engineering education as well as the human and societal dimensions in engineering.
Why do you enjoy teaching at UT Tyler?
I enjoy teaching at UT Tyler and in general because it is very rewarding in many ways. Teaching and working with young minds is contagious. Students always keep you intellectually challenged, which consequently helps you and your students to push the envelope of knowledge a tiny bit more.
The most rewarding moments are two: One, when your students succeed in completing their degree, and second, when they go about their careers and lives and come back to tell you stories about their success. You have produced another successful human being who is capable of continuously improving themselves, their society and humanity at large.
What do you like best about the UT Tyler College of Engineering?
The UT Tyler College of Engineering is a progressive college with a significant amount of drive and ambition. Many of our students graduate with significant intellectual maturity and readiness – not just to survive – but to lead in life.
I also have wonderful colleagues who view their jobs as their favorite activities and hobbies, causing them to put way more than expected in the job, with pleasure and professionalism. We have college leadership that is part of us, and we have continuous and unprecedented support from our constituents, to which we are deeply grateful. This is a great time to be in UT Tyler engineering.
What are your future endeavors?
I am looking forward to collaboratively continue driving the improvement of our department forward, to be leaders of positive change in the College of Engineering and in UT Tyler.
On a personal level, I would like to capitalize on my recent selection to join the Fulbright Specialist program and work with international institutions to build a collaboration network that can help our pipeline of students and intellectual activities. I am very interested in expanding my knowledge about how engineering is taught in other parts of the world, and how the value of engineers to society is understood compared to our domestic views.
What advice do you offer current and future COE students?
I would tell future and current students that the key to success in engineering is consistency, persistence and perseverance. Engineering is a profession that influences human lives beyond what we see, so it requires a lot of dedication and care, but the rewards are tremendous. Finally, engineering graduates of UT Tyler are among the highest paid compared to their peers.
--
Barakat is currently conducting research on improved engineering education methods and techniques. Outside engineering, he enjoys traveling and exploring new places.
#COE
Read more from the May 2022 issue!