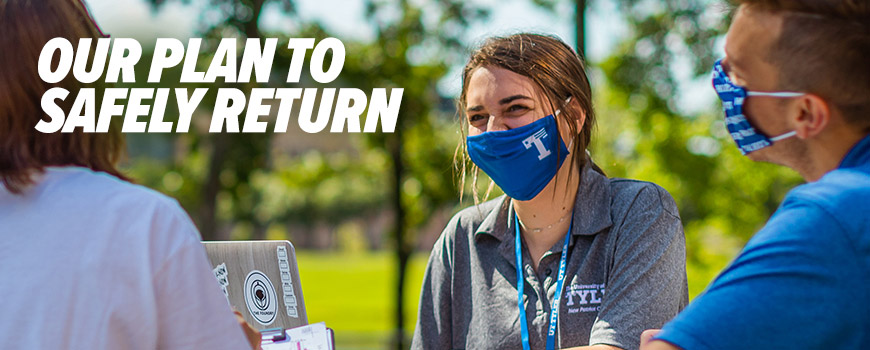 Procedures for Fall 2020 Return to Normal Operations
The University of Texas at Tyler
The University of Texas at Tyler returns to normal campus operations in fall 2020. The procedures outlined here will guide the efforts of all students, faculty and staff in maintaining a healthy and safe campus environment.
Full Procedures DocumentCancellations & PostponementsCoronavirus COVID-19 Info
Top FAQs
When do classes start?
Classes begin Monday, August 24 (Monday, August 31 for nursing) and end Friday, December 11. Students and faculty will not return to campus after Thanksgiving break. Classes November 30 through December 4 and final exams will move online.
Do I have to wear a mask/face covering?
Students, faculty, staff and visitors will be required to wear face coverings when inside University buildings.
Students, faculty staff and visitors will be required to wear face coverings when outdoors and physical distancing is difficult.
Face coverings are not required when alone in an office or in assigned residence hall rooms.
Accommodations will be available for individuals with religious, medical or other concerns, which will be processed through the Office of Human Resources (faculty and staff) and the Office of Student Accessibility and Resources (students).
What is considered a face covering?
The term "face covering" is meant to refer to fabric coverings including cloth face masks, scarves and bandana coverings, or any homemade face covering made of durable fabric. The CDC makes clear that cloth face coverings should:
Fit snugly but comfortably against the side of the face
Be secured with ties or ear loops
Include multiple layers of fabric
Allow for breathing without restriction
Be able to be laundered and machine dried without damage or change to shape The Executive Order issued by Gov. Greg Abbott requiring face coverings is referring to cloth face coverings intended to prevent the dispersion of respiratory droplets while talking, sneezing, coughing, etc.
Face Shields
Face shields may be permitted in limited applications when a face covering is not possible or practical:
Faculty may choose to wear a face shield in lieu of a face covering during lectures when a face covering may impede their ability to be heard or understood, however, they should ensure that they remain an appropriate 6-foot distance from all others while doing so. A face covering should be donned as soon as the lecture is complete.
Persons with disabilities or medical conditions that prevent the use of a face covering may be permitted to wear a face shield instead. Students in need of accommodation must contact the Office of Student Accessibility and Resources. Faculty or staff in need of accommodation must contact the Office of Human Resources.
In all other applications, if a face shield is worn, it must be worn in addition to a cloth face covering.
What should I do if I may have been exposed to or test positive for COVID-19?
Students, faculty and staff who have been exposed to COVID-19 or who test positive for Covid-19 should immediately self-report this information.
If you have recently been on campus, report via the COVID-19 hotline,

903.565.5999

, so that steps can be taken to prevent any possible spread.
If you have NOT recently been on campus, report by completing this form.
(Read more on page 5 of the Procedures Document.)
I live in a residence hall, what measures are in place to keep me safe?
The Office of Residence Life is implementing precautionary measures to ensure the health and safety of students living on-campus. More frequent cleanings of public areas (including elevator buttons, door handles, etc.) will be provided, and standards will be increased for student self-maintenance of personal living spaces. Resident assistants will conduct monthly health and safety checks of rooms/apartments. Roommate agreements will be required that outline cleaning schedules and responsibilities.
(Read more on page 10 of the Procedures Document.)
What about Commencement?
The September 11 commencement ceremonies have been cancelled.
What about the Houston Engineering Center, Longview and Palestine campuses?
Palestine and Longview Campus Academic spaces (classrooms, laboratories and simulation/skill labs) will follow the reopening guidelines for classrooms, laboratories, simulations/skills labs developed for the main campus. All classes, including Kilgore College classes held at the Longview University Center, will follow UT Tyler policies.
Houston Engineering Center (HEC) will follow Houston Community College (HCC) guidelines. HEC students, faculty and staff will follow any additional UT Tyler guidelines that are not addressed by HCC.