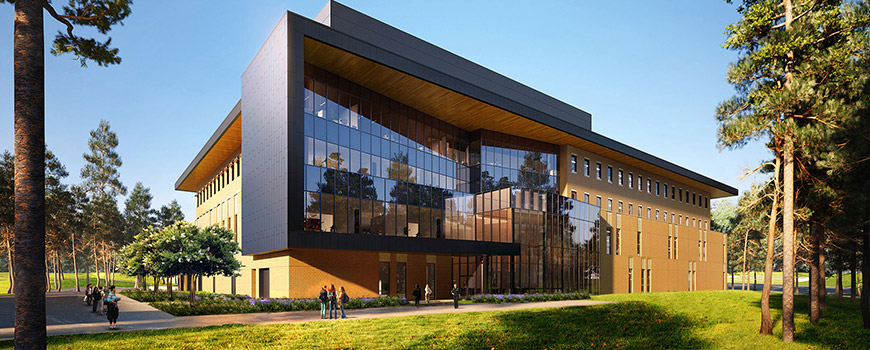 About Us
Hibbs Institute for Business & Economic Research
The Hibbs Institute for Business and Economic Research is a unit of the Soules College of Business and plays an important role in achieving one of the four strategic pillars for the University of Texas at Tyler, that it will be "the primary ... economic driver of East Texas."
Mission
The Hibbs Institute helps businesses, regional economic development councils, and local governments expand business activity in greater East Texas. The Institute (1) presents useful business and economic data and (2) provides professional economic research and analysis for companies and investors considering locating, expanding or investing in East Texas. The common goal is to increase economic activity, and the economic success of all East Texans.
Vision
The Hibbs Institute will be the primary center for statistical information and rigorous business and economic research for the greater East Texas region.
Staff
The Hibbs Institute is comprised of an experienced team of highly skilled, multidisciplinary professionals that work collaboratively to provide the best data and the most rigorous research that businesses and government agencies need to make well-informed decisions. The Hibbs Institute permanent staff consists of:
Manuel Reyes-Loya, D.E.D.
Acting Director and Senior Research Analyst of Hibbs Institute
Hibbs Institute Research Fellows
Additional research and other scholarly assistance is provided by our growing list of Hibbs Institute Research Fellows. Hibbs Fellows are selected on the basis of their demonstrated ability to complete practical research and their willingness to commit to Hibbs Institute values of quality and independence and to working on regional issues of concern to East Texas. Current Fellows include:


Marilyn Young, Ph.D.
UT Tyler Professor of Management.




Kim Nimon, Ph.D.
Interim Chair, Doctoral Program Coordinator, and Professor of the Human Resource Development Department at UT Tyler.



Jeffrey Howlett, M.B.A. Ph.D. Candidate
Executive Director of the East Texas Entrepreneurship Center


Katie Stone, M.A.
Honors Program Coordinator




Andrew Krouse, Ph.D.
Director of Facilities Management


Rob Carpenter, Ph.D.
Advanta Toxicology, LLC
Advisory Board
As a unit of the Soules College of Business of The University of Texas at Tyler, the Hibbs Institute is responsible to the dean and president of the University. In addition, the Hibbs Institute is grateful for the advice and guidance provided by an Advisory Board comprised of successful business and community leaders. Besides being interested in improving the economic prosperity of all East Texan, all stakeholders agree that the Hibbs Institute should value focusing on East Texas, conducting independent research, and producing quality business analysis for clients. Advisory Board members include:
Billy Hibbs, Jr.
Tyler, TX
Chairman/Owner, Heartland Security Insurance Group, Inc.
__________________________________________________________
Rob Carpenter, Ph.D.
Tyler, TX
Advanta Toxicology, LLC
Jeffrey Howlett, M.B.A. Ph.D. Candidate
Tyler, TX
Executive Director of the East Texas Entrepreneurship Center at UT Tyler
Rod Mabry, Ph.D.
Tyler, TX
Principal, Mabry Economics, LLC

Wayne Mansfield
Longview, TX
President/CEO, Longview Economic Development Corporation

Tom Mullins
Tyler, TX
President/CEO, Tyler Economic Development Corp., and the Chamber of Commerce

Ray Perryman, Ph.D.
Waco, TX
President/CEO, Ray Perryman Group, Inc. (economic research center)

Manuel Reyes, D.E.D.
ex officio
Senior Research Analyst, Hibbs Institute