MVSC Staff
Military and Veterans Success Center

Coby W. Dillard, MA-HSC, CMCC
Director of Military and Veterans Affairs
Coby W. Dillard is the director of Military and Veterans Affairs at UT Tyler, where he directs the university's efforts to holistically support its population of student veterans, active/Reserve/Guard members, and their families. His work and research focuses on military-related students, and their transition in and through the academic community. A Navy veteran, Coby has written and presented on ways that educational institutions can improve their support services for this unique student population. His higher education career began at Tidewater Community College (TCC) in 2010, where he worked as a VA work-study, financial aid assistant, VA Certifying Official and finally as an academic advisor at the college's Center for Military and Veterans Education. He continued his work with military-related students at Regent University from 2016-2017 and returned to TCC as its first Veterans Resource Liaison in January 2017. Prior to his arrival at UT Tyler, he served as the coordinator for Veterans and Military Services at UC Santa Barbara, where his department was recognized with the Villa Service to Students award for 2019-20. He is a graduate of TCC (2012; AS, Social Sciences), Norfolk State University (2015; BS, Interdisciplinary Studies), and Regent University (2017; MA in Human Services Counseling). He also holds a certification as a Clinical Military Counselor.

Chris Cox, MSHRD
Coordinator of Veterans Affairs
Chris Cox is the Coordinator of the Military and Veterans Success Center at UT Tyler, where he advises the Student Veterans of America student group, supports the military affiliated population and serves as the student liaison for military affiliated issues. An Army veteran, Chris founded the Student Veterans of America chapter at UT Tyler and was nominated for Chapter Advisor of the Year in 2020. He has presented at different events, served in numerous planning committees and board positions within Smith County. While at UT Tyler, Chris has served on the UT System Vet Advisory Panel, the University Staff Advisory Council 2018-2019, 2016-2017, participated in research conversations for PTSD treatment, and assisted with Veteran Entrepreneurship research. Chris holds an A.S. from Tyler Junior College in General Business, a B.S. from U.T. Tyler in Speech Communication and a M.S. from U. T. Tyler in Human Resource Development. He also holds a certification in addiction counseling from A.A.C.C.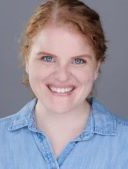 Katrina Johnson, MA
Military and Veterans Benefits Advisor
Katrina Johnson is the Military and Veterans Benefits Advisor at UT Tyler, helping students navigate the process of obtaining their education benefits and supporting the military affiliated population on campus. As the daughter and sister of Army Veterans, and the spouse of an Air Force Veteran, Katrina has a special place in her heart for the military community. Katrina holds a Bachelor's in Fine Arts in Theatre from Texas State University and a Master's of Arts in Counseling from Texas State University.