UT Tyler College of Engineering Revels in Spring Semester Successes
Featured Article
Publication Date: 05/28/2020
UT Tyler College of Engineering students celebrated various successes in both on- and off-campus contests during the spring 2020 semester.
"We congratulate our chapter representatives and student researchers who worked tirelessly on their projects, especially in light of the current pandemic," said Dr. Javier Kypuros, college dean. They kept the focus and their hard work paid off."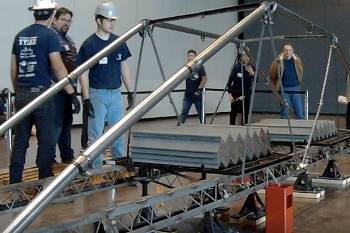 UT Tyler Excels at AISC Steel Bridge Contest
Engineering students based at the UT Tyler Houston Engineering Center earned top honors and seven awards at the American Institute of Steel Construction Regional Steel Bridge Competition.
The contest involves collegiate teams overseeing the design and fabrication of a 20-foot-long bridge to support up to 2,500 pounds. With its 2020 entry "Beta," the UT Tyler HEC team placed second and qualified for the national contest, which was canceled due to the coronavirus pandemic.
UT Tyler also placed first in aesthetics and second in all other categories ­­– construction speed, lightness, stiffness, construction economy and structural efficiency. The University's Houston-based program started in 2014, and the team consists of both civil and mechanical engineering majors.
"The dedication and effort displayed by our students for this year's competition was unbelievable, including over 48 hours of no sleep prior to the competition due to last-minute modifications, repairs, corrections and assembly practice," said Dr. Andres Garcia, HEC director. "They demonstrated that they have what it takes to compete head-to-head with more seasoned engineering programs across the state."
Team members are:
Taylor Knight of Kingwood, Team Captain
Andrew Gonzales of Houston, Team Captain
Sean Hyslop of Cypress, Fabrication Captain
Dominick Laurito of Omaha, Nebraska, Build Captain
Esmeralda Martinez of Houston
Hector Rubio of Monterrey, Nuevo Leon, Mexico
Austin Pham of Houston
Erick Alamo of Lufkin
Danny Varghese of Houston
Robert Truong of New Orleans, Louisiana
Chris Garcia of Houston
UT Tyler is a candidate to host the 2021 regional competition. The AISC committee will meet with officials in Houston to review the competition logistics and location requirements to verify the feasibility, Garcia noted.
IEEE Student Chapter Recognized by Region 5
UT Tyler's student chapter of the Institute of Electrical and Electronic Engineers (IEEE) earned the 2019 Outstanding Student Branch Award by the Region 5 Dallas Section.
The UT Tyler IEEE Student Chapter provides electrical engineering students an environment that meets their academic and non-academic needs, including activities such as tutoring, project workshops and career connections. The chapter promotes the IEEE goal to "Advance Technology for Humanity."
Dr. Mukul Shirvaikar, professor of electrical engineering, serves as faculty adviser.
"We are proud of our UT Tyler IEEE student branch and its continuous contribution to students' success and enrichment," he said.
The chapter organized and participated in activities that provide K–12 outreach.
Activities included:
Working with 120 students of the Robert E. Lee High School engineering class to demonstrate current projects and lab–created devices as well as discuss the research conducted by the UT Tyler Department of Electrical Engineering.
Assisted in the field trip for Elementary Alief ISD in Houston where 600 children toured the UT Tyler Houston Engineering Center campus and learned about the engineering design process.
Volunteered in the Windmill Competition at Alief ISD for elementary, middle school and high school students.
Competed in the IEEE R5 Robotics Competition in Louisiana.
Officers of the 2019–20 student chapter are:
Robert Jacob Adams of Lake Jackson, President
Heather McIntyre of Winona, Vice-President
Josue Rios of Tyler, Secretary
Frederick Wehe of Fairfield, Treasurer
Jessica Stokes of Kilgore, Publicity Officer
Breena Hughes of Tyler, Publicity Officer
Cooper Knauss of Tyler, Senior Representative
Karan Venaik of Doha, Qatar, Junior Representative
Linh Nguyen of Katy, Publicity Officer for Houston (2018–19)
Victoria Moore of Katy, Student Member (2018–19)
ASCE Honors UT Tyler with Distinguished Chapter Award, Ridgway Award Finalist
The UT Tyler American Society of Civil Engineering (ASCE) student chapter was recognized with two recent honors from the American Society of Civil Engineers.
The chapter received the 2020 Distinguished Chapter Award for Region 6, which includes all of Texas, New Mexico, Oklahoma and Mexico. A recommendation for this award was made by the Committee on Student Members based on 2019 activities. This is the seventh time since 2009 that the ASCE Chapter at UT Tyler has been recognized with this distinction. ASCE also named the UT Tyler ASCE student chapter one of five finalists for the Robert Ridgway Award, which promotes excellence among all student chapters globally. This is the fourth time since 2010 that the chapter has been recognized with this honor.
These high accolades are a result of the countless hours of hard work put in by the student leadership of the organization.
"I am extremely proud of the leaders of our ASCE student chapter," said Dr. Michael Gangone, faculty adviser. "They worked extremely hard to create a student experience that benefits our civil engineering community here at UT Tyler. Our ASCE student chapter is the heartbeat of our student experience. The numerous events such as technical speakers, field trips, social events, networking socials with industry professionals, resume workshops and outreach activities serve to better our students and set them on the path to success as future civil engineers."
Gangone, who is an associate professor of civil engineering, and Dr. Michael McGinnis, associate dean and McNally Professor of Civil Engineering, both serve as faculty advisers on the Tyler campus. Dr. Shariful Huq, lecturer in civil engineering, serves as faculty adviser at the Houston Engineering Center.
Senior Design Teams Sweep Awards at UT Tyler Lyceum
This year's UT Tyler Lyceum Student Research Showcase hosted 237 student presenters, representing all six colleges in 90 research presentations.
All winners in the Outstanding Undergraduate Poster Presentation category are mechanical / electrical engineering senior design teams. They are listed by award with presentation title and faculty mentor.
First Place: Omar Ramirez of Friendswood, David Desantiago of Houston, Andrew McNiel of Houston, Yousef Rida of Houston, Jacqueline Rodriguez of Pearland and Marcos Trevino of Houston – A Vacuum Solution for Lunar Dust Mitigation. Faculty Mentor: Dr. Samuel Ogletree
Second Place: Oscar Gonzalez of Houston, Keaton McCormick of Montgomery, Angelo Dossou of Houston, Dominick Laurito of Spring, Daniel Hernandez of Richmond and Alfredo Lares of Richmond – YakLIFT. Faculty Mentor: Dr. Andres Garcia
Third Place (Tie) – Joshua Berger of Longview, Caio Godinho De Oliveira of Tyler, Caleb Hutchings of Tyler, Trevor McNeely of Tatum and Cooper Knauss of Tyler – Robotic Patient Transfer Device. Faculty Mentor: Dr. Chung-Hyun Goh
Third Place (Tie) – Yoseph Mohmand of Longview, Justin Fritter of Whitehouse, Juan Castillo of Dallas, Joseph Regi Stephen of Skokie, Illinois and Aaron Wilson of Kilgore – SAE Mini Baja Competition: Designing a Baja Vehicle. Faculty Mentor: Dr. Tahsin Khajah
To view their presentations, visit: https://scholarworks.uttyler.edu/lyceum2020/event/.
#COE