Devoted to Student Advising
Kristie Allen Uses Social Media to Support Students During Pandemic
Publication Date: 05/26/2020

As a graduate admissions adviser and Mentor Center coordinator in The University of Texas at Tyler College of Education and Psychology, Kristie Allen looks for innovative ways to engage and support students in their academic pursuits.
"Working with faculty and administrators to develop student-success and student-centered programming has really become my passion,'' she said. "It's why I'm excited to come to work each day.''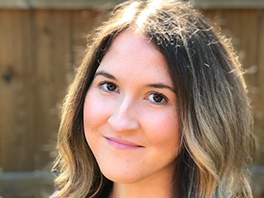 Kristie Allen

So when face-to-face classes were moved online this spring in response to COVID-19, Allen immediately began researching and forming ideas to support the CEP undergraduate and graduate students remotely.
She contacted Sydni Blundell, special assistant to the dean, and together they developed social media campaigns for the college's Facebook page to engage current students as well as those who were newly admitted for fall 2020.
"We decided to be more intentional with our social media to stay connected with our students and let them know we are all in this together and faculty and staff are here to support them,'' Allen said. "We also wanted to assure our incoming students that our college is not skipping a beat, even during this time, and that we are looking forward to seeing them in the fall.''
They produced and posted a video of more than 10 CEP faculty and staff offering words of support and acknowledging the great work students were doing remotely in academics, research and community outreach. Students were encouraged to continue to being "architects of human potential.''
"The College of Education and Psychology's tagline is to 'Be an Architect of Human Potential,' so we are here for any student who needs guidance or assistance,'' Blundell said. "We want to make sure we are supporting them so that they can go out and be architects of human potential to others.''
"Day in the Life of" campaigns were launched with Rebecca Renfrow, a graduate student in the clinical mental health counseling program, and Dr. Julie Delello, associate professor of education, showing how they were balancing their work and home life during stay-at-home orders.
A campaign themed "I Stay Home For'' asked students to comment about people they were protecting through social distancing. Several students responded with pictures of relatives and friends.
"We also had a student who thanked us for doing the campaign, although she was unable to stay at home. She was a frontline worker in the fight against COVID-19 and was glad we were promoting social distancing,'' said Allen, who is planning additional social media campaigns for the college.
Allen also continues to coordinate the Mentor Center, which has remained fully functional during the pandemic. In the program, graduate students mentor undergraduates and have continued providing one-on-one support via phone calls, text messages and video chats.
A 2013 alumna of graduate clinical mental health counseling program, Allen decided to focus her career on student success after working alongside academic advisers as a graduate assistant.
"The advisers I worked with were passionate about helping students and were a source of inspiration for me,'' she said. "And the level of optimism that students have is infectious. No matter if they're a traditional or nontraditional student, they come to college enthusiastic about earning their degrees and improving their lives. I love being a part of their journey.''
#CEP