Outstanding Alumna
Teacher Lynne Maddox Honored for Contributions to Austin-Area School
Publication Date: 05/26/2020


An alumna of The University of Texas at Tyler, Lynne Maddox is dedicated to shaping young lives as a first-grade teacher at Dripping Springs Elementary School near Austin. She is most passionate about teaching her students to read fluently and inspiring them to love learning. For her outstanding work, Maddox was honored as Dripping Springs Elementary Teacher of the Year for 2020.
"Mrs. Maddox focuses on relationships in her classroom and it is evident that she is making lasting impressions on our learners at Dripping Springs Elementary,'' said Kellie Raymond, school principal. "She goes above and beyond in her classroom each day, and is a 'whatever it takes' teacher. She looks for solutions and approaches to meet the needs of her learners.''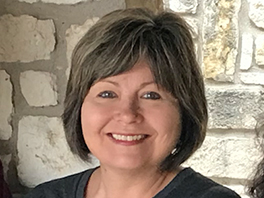 Lynne Maddox

Maddox has taught first grade since graduating from UT Tyler in 1997 with a Bachelor of Science in interdisciplinary studies. She was recently interviewed about her UT Tyler education and her teaching career.


What led you to the field of education?
I think I always wanted to be a teacher. The idea was in the back of my mind but, out of high school, I went the business route and earned an associate's degree in general business. I kept thinking about it and finally decided to go back to college to pursue a career in education.

Why did you choose to attend UT Tyler?
I lived in Longview at the time and UT Tyler had a good reputation for its teaching program. I am glad UT Tyler worked out for me. I was able to schedule classes that fit my situation, being a mom of two young daughters.


Did you have any favorite professors and/or courses?

Hard question! I had lots of great professors – and I loved my history classes!


Are you particularly fond of teaching first grade?

I do love this grade and think it is a great fit for me. I love teaching children the many parts of learning to read; and at this grade level, you often see so much growth in the children.


What do you enjoy most about teaching?
I love forming relationships with children and their families, and helping the children reach their full potential. Students have to know that their teacher cares about them, encourages them, will push them when needed and will help them build confidence in themselves.


How do you feel about being named Teacher of the Year by the staff of Dripping Springs Elementary?
It is truly an honor, but I have wonderful co-workers and administrators who help me daily. I couldn't do what I do without them!


Have you taught at other schools?
I taught at Spring Hill Primary School in Longview before we moved to Dripping Springs in 2013 to be closer to our children. I have had wonderful teaching experiences at both schools.


What advice would you give to UT Tyler students who are preparing to become teachers?
Get as much field experience as you can. It is very valuable! Also, when you are starting out, don't be afraid to reach out for help from a mentor or other teachers. Surround yourself with teachers that will encourage you and help you. Also, be willing and ready to change because there are always changes coming your way.
---
Maddox and her husband, Greg, have two daughters, Katie Ruffin (husband Chance) and Kallie Maddox (fiancée Al Agnor). They also have two grandchildren, Annie and Brooks Ruffin. In her spare time, Maddox enjoys hiking, reading and spending time with family.
#CEP