Retiring After 4 Decades of Excellence
Dr. Neil Ford Inspires Generations of Students, Faculty With His Love for Science
Publication Date: 04/20/2020
Asked what sparked his interest in the field of biology, Dr. Neil Ford recalls becoming fascinated with snakes at age 8, when he encountered a small worm snake while flipping rocks in a creek on a family vacation to the Ozarks.

The UT Tyler biology professor said his parents were not as enthused about his finding and forbade him to bring the snake home. They bought him books about reptiles, however, and eventually allowed him to have pet snakes.
"It was a strong interest, so when I started college in Kansas and met a very famous herpetologist at a nearby museum, my first question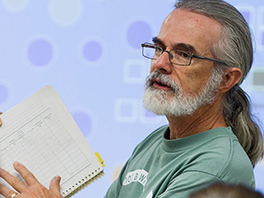 was, 'You can actually make a living studying snakes?' It was an eye-opener for me,'' said the Jefferson City, Missouri, native.
Those early years laid the foundation for Ford's career as an award-winning professor, internationally recognized herpetologist and a mentor to both students and faculty. And, although he officially retired from teaching in January after more than 40 years at UT Tyler, he continues to pursue his passion for scientific research, maintaining a lab on campus.
DECADES OF EXCELLENCE
At a recent retirement reception honoring Ford, Dr. Neil Gray, College of Arts and Sciences dean and chemistry professor, reflected upon the professor's service to the University. Gray, a UT Tyler alumnus, began attending the University as a chemistry major in 1987.
"I have seen many generations come through this university, my generation included, and Dr. Ford is one of those professors everyone knows and loves,'' Gray said. "He had a tremendous impact on me as a student, and he has never lost momentum. As a researcher, he has set the path for everyone else, including myself when I joined the faculty.''
Serving UT Tyler since 1979, Ford has conducted research into the behavior, life history and ecology of snakes and the ecology and conservation of endangered freshwater mussels. His field work has been concentrated primarily in the southwestern United States, but his collaborative efforts have taken him across the globe.
He worked with English researchers to save an endangered racer in the Caribbean, assisted in an anaconda conservation project in Venezuela, investigated a species of snake in Trinidad and collaborated with biologists in French Ghiana.
Ford has presented at scientific meetings in several countries including South Africa, Sweden and Australia and was featured in a Discovery Channel show about poisonous snakes. He also has published nearly 70 scientific papers, 11 book chapters and a book about his research.
In the classroom and in research, Ford has taught and mentored both undergraduate and graduate biology students. Many of his former students are high school teachers, university professors, biologists and doctors in various parts of the U.S.
Dr. Lance Williams, Department of Biology chair and professor, has collaborated with Ford on freshwater mussel projects and worked with him to train graduate students to assist in the research.
"Dr. Ford is a very caring teacher – one of the most caring that I've ever met in my career,'' said Williams. "He is particularly outstanding when working one-on-one with a student. When we are conducting river studies and a student is apprehensive in the water, he just has a magical ability to connect with them and instruct them.''
THE OPPORTUNITY TO MAKE A DIFFERENCE
Ford began teaching at UT Tyler after completing his doctorate in Ohio in 1979 – the year the school joined the UT System. The University, established in 1971 as Tyler State University and renamed Texas Eastern University in 1975, was originally an upper-division school for juniors, seniors and graduate students. It began accepting freshmen and sophomores in 1998.
Initially hired to teach pathophysiology courses to nurses returning to school for bachelor's degrees, Ford said the friendliness of the faculty and newness of the campus attracted him to the University. Formerly located in the downtown area, the school moved to its current location four years prior to Ford's arrival.
"Before my interview in Tyler, I interviewed in Mississippi at a very storied university, but with old facilities. When I came here, everything was brand new – the buildings were new and the lab I would be using had never been used before,'' he said, noting there were only four buildings on campus then. "UT Tyler was young and faculty had the opportunity to play a major role in decisions that were being made and to really put our mark on the school.''
FIRST GRADUATE STUDENT
Carolyn Bronston was Ford's first student in the graduate biology program, which the professor helped develop. After earning her master's degree in 1982, Bronston taught AP biology for 24 years at Tyler's Robert E. Lee High School, always with a boa constrictor in the classroom to help students become less afraid of unfairly maligned animals. Ford loaned her the snake.
The professor inspired Bronston's teaching methods in many ways.
"Dr. Ford evaluated his students very astutely and determined our strengths and weaknesses, helping us to see the advantages of using our strengths and also helping us to grow stronger in those areas where improvement was needed,'' she said. "Also, when we asked him a question, he would pause and we could see those wheels turning. He was very careful to give us his best thoughts or advice. I always treasured that, and I've tried to do the same for my students.''
Ford has received numerous awards as an educator and researcher, including College of Arts and Sciences Distinguished Professor and Mary John and Ralph Spence Distinguished Professor.
In 2016, he received the Southwestern Association of Naturalists' Donald W. Tinkle Research Excellence Award for making significant contributions to the knowledge and understanding of the biota of the southern United States through scientific articles and books.
In retirement, Ford plans to spend time traveling with his wife, Joan, in addition to continuing some of his research projects. He'll also continue sharing the wonders of science with students – as a volunteer for outdoor education programs at Camp Tyler.
#cas