Outstanding Educators
University Academy Teachers Honored for Advancing Student Success
Publication Date: 05/26/2020

Teachers play a pivotal role in the lives of students, making an impact on their academic success. For outstanding contributions to the classroom, three Teachers of the Year were selected on campuses of The University of Texas at Tyler University Academy.
Honorees are Tracey Breeden from the Longview campus; Shelly Parsons, Palestine; and Rae Lynn Sutsch, Tyler. Each was selected by a vote of staff members on their respective campuses. Parsons also was named District Teacher of the Year.
"Although I could speak honorably about every University Academy teacher, it is a pleasure to celebrate the success of these teachers and the recognition they received,'' said Dr. Jo Ann Simmons, University Academy superintendent.
Bringing Out the Best in Students
Tracey Breeden

A first-grade teacher at UA–Longview, Breeden creates a classroom culture in which students are engaged and value learning, Simmons said. "She motivates her students through her creative and innovative mind, challenging and encouraging them to reach far beyond their potential, which naturally increases their educational growth.''
Breeden said she believes in forming a family environment in the classroom: "When the students feel loved, they can and will meet expectations.''
She has worn many hats during her 11-year teaching career, including serving as a mentor and lead teacher, presenting at professional forums and participating on campus committees. She conducted research on how the left brain and right brain communicate and submitted a grant to implement Lego walls in the classroom.
Her favorite quote is by Rita Pierson: "Every child deserves a champion, an adult who will never give up on them, who understands the power of connection and insists that they become the best they can possibly be." That is who she strives to be daily.
Supporting Student Growth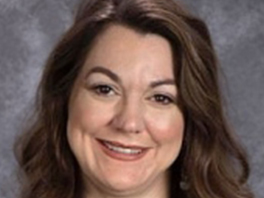 Shelly Parsons

As a third-grade teacher at UA–Palestine, Parsons supports student growth by teaching risk-taking through project-based learning and reassuring students that mistakes are part of the learning process.
"Shelly Parsons is a master teacher,'' said Simmons. "When I think of Mrs. Parsons, I think of a professional educator who not only teaches content, but also teaches students how to be good citizens. She models professionalism and takes the time to teach students appropriate behaviors.''
Parsons received the Distinguished Teacher Award in 2019 and currently serves as a member of the UT Tyler Development Council Board and the University Academy Campus Design Team. She is completing her principal certification at UT Tyler with plans to move into curriculum coaching.
A Passion for Student Success
Rae Lynn Sutsch
Joining the UA–Tyler faculty in 2018, Sutsch teaches students in the school's dyslexia program.
"Mrs. Sutsch is a child advocate,'' Simmons said. "She encourages students to embrace their individual talents, face their challenges and develop an appreciation and respect for themselves. She leaves a lasting impression on all her students.
Sutsch's 20-plus years as a teacher have been deeply rooted and influenced by her desire to help children succeed. Even as a teenager, she was always the first to volunteer with a project that benefited young children.
She is a Certified Academic Language Practitioner and is pursuing her master's degree with plans to enhance her teaching by becoming a licensed dyslexia therapist. Sutsch considers working with students who have learning differences a privilege. She teaches 26 students in first through eighth grade and finds them "inspiring, motivating and great examples of success over obstacles.''
#CEP