Working in Washington
Alumna Melissa Ford Begins Career in Public Policy at the White House
Publication Date: 05/26/2020
Melissa Ford graduated from UT Tyler in 2018 with a double major in political science and economics. Today she serves as White House senior adviser Jared Kushner's policy analyst and the operations manager for the Office of American Innovation. The former Honors Program student shares her journey from the University to 1600 Pennsylvania Avenue.
Where are you from originally and what brought you to UT Tyler in 2014?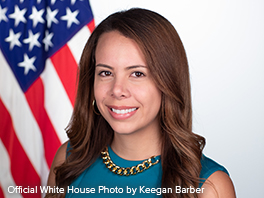 I was born and raised in Cochabamba, Bolivia, and moved to the United States after high school to begin my freshman year at UT Tyler. My parents encouraged me to attend UT Tyler so I could be close to my sister, who started at UT Tyler two years before I did. My sister, Mariana, spoke very highly of the campus, the academics and the community, so I followed her.
Why did you choose a double major in political science and economics?
I've always been interested in these fields of study, partially because of my dad's career in foreign development and foreign service, but I was "undecided" for my first year and a half at UT Tyler.
I have a very wide range of interests, so everything appealed to me in the beginning. I pondered majoring in biology, then journalism, then anthropology, but it was eventually my core microeconomic and macroeconomics classes with Mrs. Susan Doty that won me over and convinced me to declare a major in economics.
My interest in political science grew exponentially after that, especially with the 2016 presidential election as well as the opportunity I had to take a travel study trip to Israel with Mrs. Doty in the spring of 2017.
Did you have any favorite classes or professors at UT Tyler?
Mrs. Doty was one of my favorite professors, and I likely would not be where I am today if it weren't for her. She is a rock star, and I'll never forgot all her lessons and mottos about choices. I also got to know Mrs. Rebecca McElyea through Model UN, and she is absolutely wonderful. Also, I always enjoyed Dr. Marco Castaneda's classes and his method of teaching.
Lastly, I would like to give a shout out to Dr. Paul Streufert, director of the Honors Program! I unfortunately never had the privilege of taking one of his classes, but Dr. Streufert is the reason I applied to the UT System Archer Fellowship Program. He guided me through the application process, helped review my essays and wrote a letter to the White House to recommend me. I did not know it at the time, but his leadership went on to change the course of my life. Thank you, Dr. Streufert!
Prior to graduating in May 2018, you spent the spring semester in Washington as an Archer Fellow. Had you ever visited Washington before? Also, how did that experience lead to your current position?
I had never been to D.C. before, and I almost turned around and flew back to Texas as soon as I stepped out of the airport and felt the cold air. We began our program in the middle of a D.C. cold front!
As an Archer fellow, I interned in the White House Office of Political Affairs, where I researched national, statewide and local topics that affected the administration's platform, assisted political directors with outreach, drafted editorials for regional press outlets, and provided daily news alerts and broader media coverage reports regarding national and local politics.
I was offered a position in the administration shortly after completing my internship. I flew back to Tyler in May for graduation, waited a few weeks for my security clearance, and moved back to D.C. in June. I worked in the White House Management Office as a front office assistant and then as an associate operations manager before joining the Office of the Senior Adviser as Jared Kushner's project manager. Over a year later, my position has shifted into more of a policy role, and I now serve as a policy analyst and the operations manager for our office (White House Office of American Innovation).
What is it like working in the senior advisor's Office of American Innovation?
My current job is beyond anything I ever dreamed about in college. Just like any other job, there are times when it's exhausting, but it's absolutely impossible for me to lose sight of how fortunate I am to have this opportunity.
Our office works on a number of policy issues, and we develop innovative solutions to different problems our country faces. Under the leadership of Jared Kushner and Brooke Rollins, we make recommendations to the president on policies and plans that improve government operations and services, improve the quality of life for Americans now and in the future, and spur job creation.
A few things we've worked on this year are immigration, criminal justice reform (the First Step Act, presidential pardons and clemency), Opportunity Zones and community development, the Middle East peace plan, school choice, energy and environment, etc.
Are you glad you chose to attend UT Tyler?
Absolutely! I loved UT Tyler, and I wouldn't trade my college experience for anything. I had professors and mentors who invested in me, believed in my potential, and helped me unlock opportunities I never thought possible. UT Tyler got me to where I am today.
What advice would you give to current UT Tyler students?
All that matters is that you're willing to work hard and dream big. Anything is possible if you're relentless and optimistic!
#cas