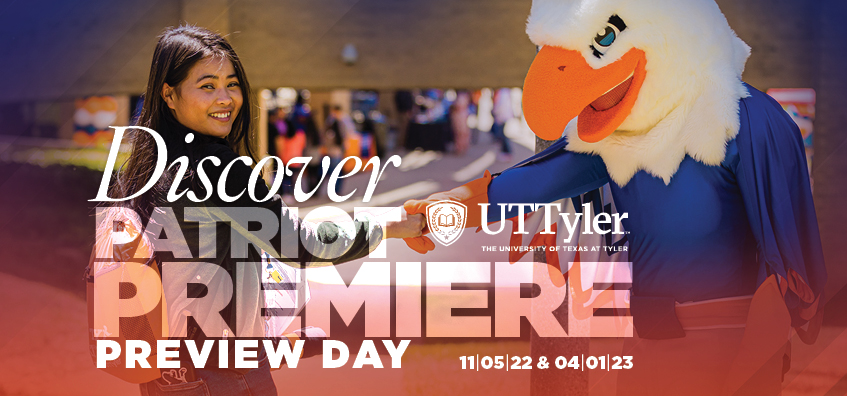 Patriot Premiere Preview Days
Held Each Fall and Spring
Upcoming Day: April 1, 2023
Deciding which college or university to attend can be an overwhelming decision. At UT Tyler, we are committed to providing the information you need to identify the type of college or university at which you will be most successful.
Patriot Premiere gives you an opportunity to visit our campus, meet faculty, staff and students, and ask the college-related questions you need answered!
Planned activities for Patriot Premiere include:
Academic Sessions

You will have the opportunity to hear from professors, advisors and students within the academic department of your intended major. The discussion will include general information about various degree offerings, the programs in general and requirements.


University Showcase

Meet representatives from departments and student organizations.


Special Interest Sessions

Hear about our many opportunities for student involvement and career exploration beyond the classroom. Session topics include student life, financial aid and scholarships, housing and admissions requirements.


More Information
Should you have any questions or need additional information, please contact the Office of Admissions at 1.800.UT TYLER or 903.566.7203.